On January 28-29, a delegation of union officers from the Inlandboatmen's Union (IBU) and ILWU toured the Job Corps Seamanship Academy at Tongue Point in Astoria, Oregon.
ILWU International Secretary-Treasurer Willie Adams, IBU President Alan Coté, IBU Secretary-Treasurer Teri Mast and Columbia River IBU Regional Director Brian Dodge met with students and instructors at the Academy. They spent a day on the training vessel 'Ironwood,' observing the drills and other hands-on training that form the backbone of the school's curriculum. The Academy is administered and funded by the US Department of Labor's Office of Job Corps and is operated by the IBU and the Management & Training Corporation.
Recipe for success
Captain Len R. Tumbarello, who retired from the US Coast Guard after 28 years of service, is the Director of Seamanship at Tongue Point. He talked about the values that the program teaches to produce quality, entry-level mariners for the industry.
"What we call for the Four P's is the recipe for success in this industry: Proficiency in craft, taking care of people, professionalism at all times, and passion for the job. Tumbarello said. "People is a key one," added Tumbarello, "because if you can't get along with people you are not going to be a very successful person."
The Academy's recipe for success is paying off. The program currently places 95.5% of its graduates in the maritime industry, a significantly higher placement rate than most Job Corps programs. And the average pay for Seamanship Academy graduates is the second highest of the 1,200 Job Corps programs in the country.
Because of the program's success, enrollment for the Seamanship Academy was recently doubled by Job Corps from 60 to 120 students.
Students graduate from the program with certifications and skills that are in high demand by employers including:
Able Bodied Seaman (AB)
Qualified Member of the Engine Department (QMED)
Proficiency in Survival Craft/ Lifeboat
Navigational Watch
Shipboard safety training (firefighting, first aid, personal safety, social responsibilities and personal survival skills)
Hazardous Waste Operations andEmergency Response
Steward (Galley)
From the Great Society to Tongue Point Job Corps
The Seamanship Program was started in 1980 by the IBU in conjunction with the Tongue Point Job Corp. The Job Corps was a one of many federal programs founded during President Lyndon Johnson's "War on Poverty," and was seen as an important part of Johnson's domestic policy agenda known as the "Great Society."
It created an array of important programs, including Medicare and Medicaid, financial aid for college, National Public Radio, food stamps for poor families, and Head Start.
Job Corps was modeled on the Civilian Conservation Corps (CCC), which was a federal program established by President Franklin Roosevelt during the Great Depression as an emergency relief program to help unemployed workers. The CCC provided room, board, and jobs to millions of unemployed young people.
The Job Corps began with a similar idea—that the government can provide a "hand up" to working class youth by teaching them a trade to start them on their career. The program helps some get a second chance in life after starting down the wrong path. Job Corps provides vocational training that provides career opportunities for youth who are not able, or don't want to go to college.
Looking out for everybody
Tumbarello applies that same principle—looking out for those who might take the wrong path—to his approach at the Seamanship academy.
He explained that in any given class, there will be 10% of students who struggle at the bottom. They could be struggling academically or having trouble adjusting to the new lifestyle.
"On the first day of class, I always ask students what they think we should do with these bottom 10%. And without fail, I always hear a chorus of, 'Fire them, Captain.' That would be the easy thing to do. Just get rid of them," said Tumbarello. "But that's not what a leader does. We have an obligation to those students to help them along, even if it means spending more time and more resources to help them succeed."
The future of the industry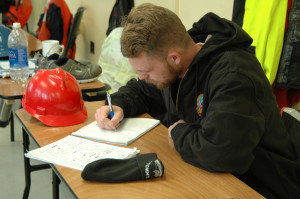 "I see before me the future of the maritime industry," said IBU President Alan Coté, speaking to an assembly of Seamanship students. Tongue Point Academy is the only Job Corps program that trains youth for careers in the maritime industry. There are private maritime academies that cost tens of thousands of dollars a year to attend, and students often graduate from those academies with a student loan debt well over 0,000.
"This is a wonderful opportunity that cannot be duplicated," said Coté. "There is nothing like it. When you get done with this school, you will have a brand new life, no matter where you came from, no matter what your life was like."
Coté described his own experience working on a tugboat with without the benefit of attending a training academy like Tongue Point.
"You have a benefit I did not have when I got into this industry," Coté said. "I went to the school of hard knocks. When you sail with a 40-year veteran Norwegian Captain, and you get on his boat, and you are greener than green, do you think it's a pleasant experience?" He added that his ears are still ringing, and shoulder still hurts from the day when he got into the bite of a line. "In those days they taught you how not to be killed by almost killing you," he joked.
Teri Mast also spoke at the assembly. She encouraged the students to take advantage of the many channels that exist for student feedback about the program including the shop steward system that was implemented several years ago.
Life lessons
ILWU Secretary-Treasurer Willie Adams told the students some of his own story about growing up in Kansas City where he was running with the wrong crowd before becoming a part of the ILWU and turning his life around.
"Sometimes it's hard to believe how far I've come. My life could have been very different. I just wish that my father could see where I am today,"Adams said, encouraging students to take full advantage of the program, calling it "a gift."
The dangers of the industry were highlighted during a student assembly when Columbia River Regional IBU Director Brian Dodge introduced Curt Dawson, an IBU member who works as a deckhand for Foss Maritime. In December of 2005, Dawson jumped into the Columbia River to save Captain David Schmelzer from drowning.
Dodge said the heroism was even more spectacular because Dawson isn't very a very strong swimmer. Dawson was awarded the US Coast Guard's Silver Lifesaving Medal, one of the highest awards for civilian valor.
After the assembly Adams, Coté, Mast and Dodge stuck around to talk with students and get their feedback on the program.
"It was inspiring to hear the stories of these young men and women who have overcome so many obstacles in life just to get here," Adams said. "It's easy to take our opportunities in life for granted, but talking to these young people you can't help but be inspired by their dedication and perseverance
From strangers to shipmates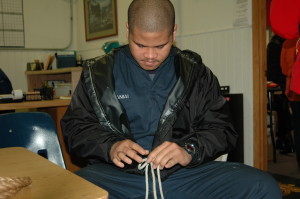 The students at Tongue Point come from a variety of backgrounds, from small towns to big cities, and they arrive with a variety of life experiences. Some have gone to community college or four-year universities while others haven't completed high school. Some have family in the maritime industry while others have never been on a boat their entire lives and grew up in a landlocked state in the Midwest. Some students come to Tongue Point with a longtime dream of pursuing work in the maritime industry, while other arrive unsure what they want to do with their lives.
The academy has to mold these students from diverse background and different life experience into shipmates.
The close quarters on the ship and living together on campus can cause to figure out how to work together as a team.
"We try very early on to break them up so that everybody can understand that it's not about where you are from," Tumbarello said. "We're not putting all the Hawaiians on the port side and all the Virginians on the starboard side. Be proud of being from Virginia, that's great, but you're part of Seamanship, and we are all one team."
Senior students also play a significant role by helping newer students enter the program; easing the transition to life at the academy and helping with an extra set of eyes as new students learn how to work on ships.
"We have people from all different backgrounds, and everyone understands that," said Matthew Bosnich, a student at the Academy, who is preparing to graduate.
"When I first got here, I learned a lot of things from the senior students. The instructors can't be there to work with everyone one-on-one, so the senior students help out the younger guys."
The camaraderie that develops among the students is a central feature of their experience. Coté described it as being very much like the solidarity of the union. Many students described their shipmates as being "like family" and many were initially anxious about attending the Academy because they were worried about fitting in. Most quickly find themselves with a supportive network of new friends.
"On my way here I didn't know what to expect— if I was going to get along with anybody," said Aaron Stivason. "But I just stayed positive. As soon as I got here I made a gang of friends. We were all cool. The program is awesome. It's turned out a lot better than I thought."
"Everyone started off somewhere in their careers," Tumbarello said. "Apprehension and anxiety is good, but once you walk through the door and start something, go back to that good attitude, hard work and persistence. That is going to pay off. As long as you do that you'll be successful in this program."
Haley Brady said that being one of only three women in the program hasn't been a barrier to her success. She said that her shipmates have always been there when she has needed them.
"I look at it like this is our work, and there are things that we need to do. These guys are like my brothers. We are there to help each other and every time I've needed something, they've been there for me. I don't look at it like, 'I'm a girl.' I look at it like we are shipmates," Brady said.
"They call it the 'Brotherhood of the Sea' for a reason," said Alan Coté. "These students will form friendships here that they'll take with them through their entire careers."
"I love being a sailor," said cadet George Dick. "You really form a tight connection. I consider a lot of my coworkers family. It's a bad ass feeling. You cross the Columbia River bar and knowing it's one of the most dangerous bars in the world and you go through it every week.. It's a sense of real pride. I wouldn't trade it for anything in the world."
Hands on training
"The majority of the work we do in this program is hands-on," explained Matthew Bosnich. "We do classroom work, and take a lot of tests but the most of what we do here is working on and maintaining the vessels, so we have a lot of practical experience by the time we graduate."
That hands-on experience includes extensive time at sea on any one of the school's three training vessels. Students respond to simulated medical emergencies, fires, man-overboard and other drills during their time out on the water so they are prepared to respond during an actual emergency.
Students recently participated in a training drill with the US Coast Guard. The Ironwood was boarded by a Coast Guard teams repelling from helicopters and boarding from other vessels. The drill was a simulated response to a ship entering the Columbia River with an unusually high radiation signature.
Marine oil spill response
In June of 2015, five Tongue Point Seamanship Academy students traveled to Santa Barbara, CA to assist with the clean-up of an oil pipeline that ruptured near Refugio State Beach. Oil response is one of the many skills taught at Tongue Point Academy.
"We are producing mariners that help keep the navigable water ways of the United States safe, secure, and environmentally pristine – which is vital to keeping commerce going," Tumbarello said.
Internships
"This program provides a valuable service to the industry," said IBU Secretary- Treasurer Terri Mast. "The average age of the current workforce is 55 yearsold and employers need the qualified, entry-level mariners that this program
provides."
While the Academy provides extensive sea time to students on the school's training vessels, Tumbarello said he is committed to expanding their internship program so every student will have an opportunity for job-based learning.
"We are blessed with three vessels and people who come here with missions for us to do, but the way that our students get the best exposure to the real world is through our internship program," Tumbarello said. "When I got here three years ago, I set a goal of providing an internship opportunity for every student before they graduate.
Right now, we have ten internships for 128 students; which is a start, but we need more." He says the program is already exceptional, but they intend to keep making it better.
Employers interested in setting up an internship opportunity for Tongue Point Seamanship students, please contact Len Tumbarello at 503-338-4977.
For more information applying to the Job Corp visit https://recruiting.jobcorps.gov
Listen to extended interviews with Tongue Point cadets in the link below: