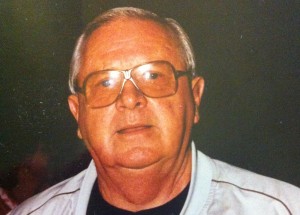 Bill's ILWU career spanned a period of almost 40 years between 1951 until his retirement in 1992. He served as Executive Board member and Vice-President of the old Vancouver Deepsea Local 501, and was elected to serve as Business Agent for 17 years in the amalgamated Local 500. He rounded out his career as ILWU Canada's 1st Vice-President from 1988 to 1992.
His dedication to worker's issues was formed early. As a boy, he saw his father, Charlie, blacklisted by waterfront employers for playing a leadership role in the ill-fated 1935 strike.
Bill faced a personal setback at the age of 16 during his first job at a North Vancouver shipyard where he fell down a hatch and shattered his right hip. He recovered after a year in the hospital but was burdened by a major limp for the rest of his life. A lesser man may have sought light employment, but not Bill; he started longshoring and took-on the backbreaking labour of that era.
Throughout his life, Bill never let the disability slow him down. He found his calling as a Business Agent at Local 500. His gruff and uncompromising demeanor caused many a foreman and superintendent to back down during a dispute. His own members would sometimes feel his wrath when they were wrong and wanted to debate the issue. This however, was his game face; beneath the gruff exterior he was caring and compassionate, and always went to bat for the underdog.
In addition to his full time positions, Bill was served four years on the ILWU International Executive Board; was elected as a delegate to 6 International Conventions, numerous ILWU Canada Conventions and many Longshore Bargaining Caucuses.
"Even though he retired over 20 years ago, Bill Kemp's legacy is still with us." according to ILWU Local 500 Secretary-Treasurer Peter Haines
"Bill trained many of the leaders that followed him into office in Local 500. There was nothing like a formal training program, but we learned from Bill by watching him do his job. Bill never had to write anything down or consult any records; he had an incredible memory for events and decisions. He taught us to never lose sight of the fact that you were working for the membership."
"In almost 30 years, Bill never lost an election," continued Haines. "This record is unprecedented in our Local and will likely stand a long time with the highly competitive nature of Local 500 politics. Bill never lost sight of who he was working for – and the membership rewarded him accordingly."
To celebrate his retirement in 1991, and recognize his outstanding service to the ILWU and longshore industry, an overflow crowd of more than 600 people attended a Retirement Roast at the Maritime Labour Centre.
It was a raucous event attended by longshore, foremen and some management representatives who had gained huge respect for his fair and balanced approach. Bill leaves Faye, his wife of 63
years, son Danny, daughter Kathy and their families.
– Dan Cole, ILWU Local 500, retired